How to fix 'Cyclic Redundancy Check' error
Cyclic Redundancy Check is an operation that the system uses to examine the storage mediums - hard drives or optical disks. Put simply, CRC is the calculations made for assuring that the information being transferred is not damaged. If you receive the notification with this error, then there is some data that is found to be corrupted while checking.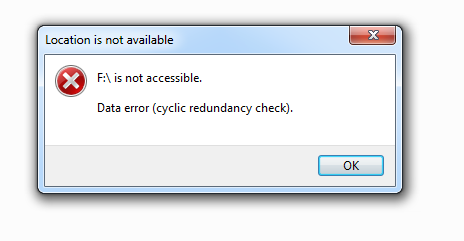 Luckily, this not equals to the loss of information. Moving data is usually being divided into small parts and each of them gets a CRC value. In case the transfer went wrong, CRC index at the destination point will be different from the initial one, and it will be indicated by the error message.
Typically, the CRC error can be seen during attempts to get data from a defective CD/DVD. Less common causes include system instabilities, software imperfections and incomplete downloads. For errors with optical disks it can also be hardware issues resulting from a malfunctioning drive.
Get rid of error - Security Stronghold security team has developed your problem's solution!
Here you will find complete and fastest solution for fixing Cyclic Redundancy Check error
Download Repair Wizard

to fix Cyclic Redundancy Check error
Fix Cyclic Redundancy Check error manually
Due to the error source the methods of solution would differ.
For CDs and DVDs:
If the problem occurs after you've inserted a disc and tried to reach its contents, then try cleaning it. For this you may use a soft cloth and carefully wipe the disc from the center to the edge. It is important to clean a disc against its motion direction. as it reduces the chances of its scratching.
If you've noticed the scratches on the disc surface you may use a special liquid. Wipe the disc with it and after the disc is dried, insert it into the drive again.
If cleaning the disc doesn't help and the disc is badly damaged, you have nothing left but to purchase or burn another one.
For Hard Drives:
Try to detect and fix the error with the system tool
Open My Computer or This PC
Right-click the hard drive that caused troubles
Select Properties
Go to Tools tab
Click Check Now button
In the appeared window check both available boxes and click Start
or it can be done via Command Prompt
Press Win+R
Type cmd and hit Enter
Input chkdsk (drive letter without brackets): /f
Run DiskPart
Press Win+R
Type cmd and hit Enter
Input diskpart and press Enter
Wait until the end of the process
Type rescan and hit Enter