Products For Business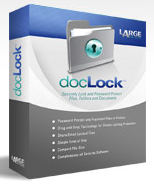 Protect files on your computer that contain sensitive and personal information, such as tax returns, financial documents, medical records, photos, videos if you don't want your children, roommate, work IT guy or others who may come into contact with your computer to see them. DocLock allows you to password protect any file or folder on your computer with ease. Take your secured file with you! DocLock makes it simple to transport file via disk or portable drive for use on any PC. Keep sensitive information completely secure from anyone who may access your computer and keep your personal information in your control at all times.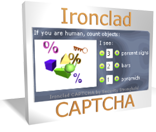 Ironclad CAPTCHA will protect your web site, forum or blog from spam with 100% guarantee. Due to revolutionary 3D objects counting approach it is unpenetrable by computers and spam robots and will remain so for at least ten years. However, it is very easy to recognize it for real human. Ironclad CAPTCHA is 100% free and you can use it on any site you like. Installation on PHP- or ASP.NET-based site takes no more than 10 minutes and will result in true unpenetrable defense for your web projects.